Our Services
Our services are normally conducted at the many airports in close proximity to Vancouver, British Columbia, Canada. For training at your location please Contact Us directly to make arrangements that suit you best.
All services conducted outside of Canada are billed in US dollars.
By making a selection from the options below you will be provided with full course details outlining which course best meets your needs. Please make a selection from the "> learn more" options below.
Flight Instructor Refresher Course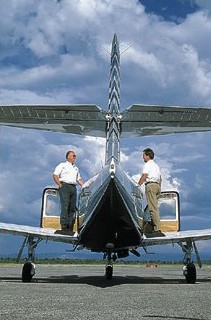 Our three-day courses provide you the opportunity for professional development and enhancement of your aviation instructional techniques along with renewal of your Flight Instructor Rating – Aeroplane or Helicopter.
Commercial pilots training for an initial Class 4 flight instructor rating are welcome to attend as the course counts as ground school toward your initial flight instructor rating.
GPS / Advanced Avionics Training
We specialize in conducting Familiarization Training for the Garmin aviation panel-mount GPS/NAV/COM receivers. In class you will use an actual Garmin GNS 430 receiver that is certified to the TSO c129a standard. This training applies to the Garmin GNS 530, the G1000 PFD/MFD family, and the GTN 750 family of touch-screen navigators.
We now also offer training for the new Garmin GTN 750 touchscreen navigators.
Pilot Recurrent Training Program
Our one-day course allows you to meet the 24 month recency requirement of the Canadian Aviation Regulations paragraph 401.05(2)(a).
Flight Test Services
Our Transport Canada authorized Pilot Examiner can provide fligh test services for initial issue or renewal of all aeroplane pilot licences and ratings, in single-engine aeroplanes and multi-engine aeroplanes, either piston engine powered or turbo-prop engine powered.
Restricted Operator Certificate-Aeronautical
Our day course prepares you for the written examination leading to issuance of the Restricted Operator Certificate-Aeronautical for use in aircraft, whether on the ground or in the air. Our examiner is authorized by Industry Canada to conduct the writen examination.
This certificate is also required by any person who operates any aeronautical ground station, such as company dispatchers or airport operational personnel.
We look forward to seeing you in class!
Chief Instructor: Bob Leroux
Class 1 Flight Instructor, Pilot Examiner and former Inspector with Transport Canada

… it's an attitude!